- AOD GC Laser General Final by I^Love^Mixery
Type: Survival - Difficultly: Very Hard - Number of Players: 3 Players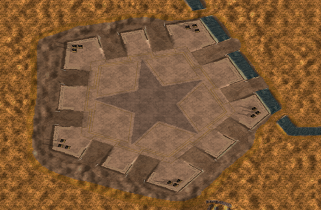 IMPORTANT:
Put a vGLA Computer Enemy in the 4th game slot.
Words by the creator:
Nicely balanced AOD Map without lag for three tough human players. Not recommended for new players, extremely difficult final attack waves. Based on the Lazer Generals Challenge from Zero Hour.
Highly aggressive land and air unit waves will attempt to terminate you from all sides, so you better block off all the ramps asap. 20 normal waves followed by 4 hard boss waves and a final boss unit. Lazer General recommended for all human players. On "Easy" and "Normal", an allied AI Dozer will automatically support you by building some lazer turrets and other stuff. Be proud if you make it to the final boss. Feel like a champ if you manage to destroy it before it destroys you. We managed it only once. Ever.
As in all of my maps there's no map.ini file, so the game works perfectly fine by simply hosting and transfering the map in Multiplayer.
Watch how AI beaten at ATTEMPT-3
Have fun!
DOWNLOAD
times downloaded